Land Transportation
We propose optimal transport plans fitting individual customer needs among a wide range of modes, achieving quick, safe and secure deliveries. Transport efficiency is promoted with our service combining door-to-door delivery convenience of trucks and mass handling capability with the economy of railway, land transport and other larger-scale transportation modes.
Truck Transport
We have a wide variety of vehicles, taking advantage of networks to connect depots and offer delivery services meeting different customer needs.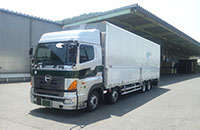 Tank Lorry Transport
We pursue quality services with safety, based on an extensive line-up of tank lorries covering petroleum products, dangerous goods, poisonous/deleterious substances and high-pressure gases.

Rail Transport
We offer a wide selection of container transportation services to fit the properties and shapes of products, guaranteeing the best transport quality.