Oceangoing - Overseas Division
WE CAN ALWAYS PROVIDE YOU WHAT YOU NEED!
Our main role in this field is procurement of necessary vessel to carry customer's cargo fromtime to time especially in Far East and South East Asia. We cover a wide range of Petrochemical Products, Vegetable Oils and CPP.
As an earnest and faithful partner, we can present the ideal logistics under the concept of"WE CAN ALWAYS PROVIDE YOU WHAT YOU NEED" on the basic ground of "Charterer-Oriented Service".We believe that Charterer needs such an advanced style of Shipping Company which can provide them the best logistics plan beyond just saying "Yes or No". Finding out the best way, presenting the best idea and servicing the best delivery, gives us the most pleasure at all time.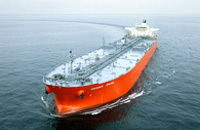 "SAFETY","PUNCTUALITY" & "FLEXIBILITY" as value-added
In the field of tanker operations, our primal target is, needless to say, Charterers' satisfaction.What are Charterers satisfied with most? Finding this out always comes first in MCLC's fundamental concerns. The answer might vary depending on the sitation, but we figure it is, most generally,"SAFETY & PUNCTUALITY" and also "FLEXIBILITY".
Usually, "SAFETY & PUNCTUALITY" comes before all factors of global demand in the cargo transportation business. However, "SAFETY & PUNCTUALITY" has already become common sense in the field of logistics today.Since it does not attract Charterers more than it used to, the time has come for us to have another advantage which makes us different from others; we found it is "FLEXIBILITY". The more global business becomes,the more complicated it becomes to meet. As demand from cargo Suppliers and Receivers change by the minute,we are very much aware that Charterers would like us to adjust for changes even at the last minute.Understanding the global business situation, putting Charterers on the center of our service, and carrying their cargo with "SAFETY &s PUNCTUALITY", we shall meet their urgent requests with "FLEXIBILITY".

TEL:81-3-5408-4830 / FAX:81-3-5408-4558
(Overseas Division, Marine Business Department)