Management Message
A message from MCLC President & CEO Nobuo Fukuda
Constantly Ahead of the Times to Meet Our Customers' Expectations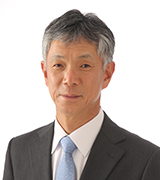 In the more than 60 years since the founding of Dokai Sangyo Co., Ltd. in 1956, we have accumulated unique know-how and technologies for improving logistics quality, safety and quality assurance (QA) in the business of chemical logistics. We have leveraged our gemba-ryoku (fundamental organization capability) gained through the development of our core businesses, including overland transportation and marine transportation. We have become one of the few unique logistics companies that can truly provide continuous logistics services both in and out of Japan. We have enhanced our logistics functions by operating tank yards for hazardous chemicals, providing both coastal and ocean-going transport with a fleet of chemical tankers, and fulfilling the function of an in-house customs clearance specialist for our customers throughout Japan. We have refined our functions in packaging materials supply to enable us to provide comprehensive logistics solutions that take into account the entire supply chain from the supply of raw materials, through packaging materials, packaging, in-house operations, and storage to shipping and delivery. We have also enhanced our service quality and capabilities to operate our businesses. At the same time, our local subsidiaries in Asia provide multiple logistics bases.
We will play a critical role in the logistics sector of Mitsubishi Chemical Holding Group by following the "3 Gs" of "gemba-ryoku," "group" and "global" as key measures in our five-year mid-term management plan "MCLC APTSIS 20" (April 2016 to March 2021), which started in April 2016. Our company aims to be Japan's top logistics company in chemical products, trusted by every stakeholder. We seek to do this by contributing to the overall chemical industry through the creation of KAITEKI Logistics and developing logistics infrastructures as an appropriate response to changes in the logistics environment.
On April 1, 2017, our Japanese company name has changed from Mitsubishi Kagaku Butsuryu to Mitsubishi Chemical Butsuryu (there is no change to the English company name and we will continue to refer to ourselves as Mitsubishi Chemical Logistics Corporation), and On April 1, 2018, we merged with Ryowa Logitem Co.,Ltd.,.With our philosophy: "As a reliable solutions provider, Mitsubishi Chemical Logistics Corporation creates valuable logistics (KAITEKI Logistics) by contributing to the growth of our customer's businesses and society at large," we aim to continue to evolve with the support of our consigners, customers and partners.