Japan Coastal
Japan coastal services include company-owned vessels, chartered vessels, and one round trip charteredvessels for a total of 34 ships.
We are engaged in sea freight transport, handling 4.4 million tons of cargo, mainly petrochemical products. We have a wide variety of ships, including chemical tankers, LPG tankers, special tank ships and general cargo ships, attentively responding to the needs of customers.
Quality
Based on our know-how cultivated through ample experience in sea transport of chemicals and our exclusive transport management system, we are committed to safe operations of ships, maintaining high transport quality and offering stable and efficient sea transport for customers.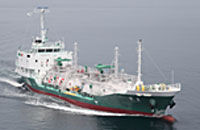 Environment
In order to achieve CO2 reduction targets globally adopted as a measure to prevent global warming, we actively promote the introduction of various measures to the ships we operate.